We rely on a large personal sphere of influence and count on respectful treatment.
"Flat hierarchies," "focus on the employee," and "short decision-making processes" – instead of arbitrary interchangeable phrases, we offer something completely different:
The chance to be more in a sustainably growing medium-sized company than a small cog in a big machine. We offer the opportunity to really get involved, take responsibility, and go new ways – even in cross-departmental projects.
We pay special attention to a respectful and friendly working relationship with our colleagues.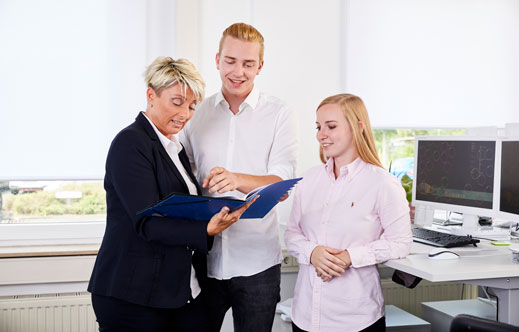 Responsible work. Developing and implementing your own ideas
Many of our customers are market and innovation leaders in their respective industries. We support them with our products with upcoming innovations, for example in electromobility. This is very exciting and challenging. And we have a great responsibility towards the customer.
We often face tricky tasks: How can we manage to produce a power supply in such a way that it will then later fit into a small housing and that there will be no problems with heat generation? How can we serve several customers in parallel with different currents and at the same time digitally communicate with the end product? How do we make it possible to produce a high number of units in the short term and still guarantee absolute reliability?
In order for us to solve these tasks, each employee, whether an apprentice or a manager, has a great deal of personal freedom of action in his or her activities. We actively promote our employees contributing and implementing their own ideas. Thanks to this culture of innovation, over the past 100 years we have repeatedly managed to develop innovative products and to develop into a healthy medium-sized company.
In order for our employees to be best equipped for all tasks, we combine "promote and challenge" with every employee to a complete, lasting development process – from trainee to manager, individually and on the job.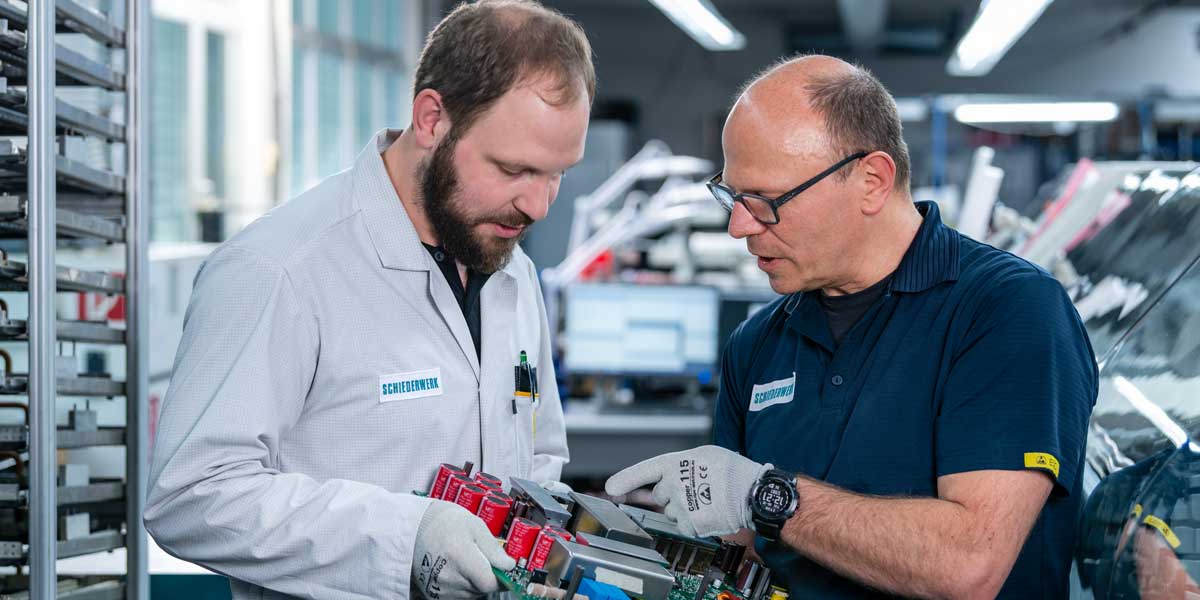 Our management culture. Trust instead of control
We believe that every employee is an expert in what they do. We believe that each employee does their job with the utmost care and reliability. Above all, we firmly believe that every employee enjoys their work.
So it's only logical that our management does not see it as their job to control their own team. Their goal is to offer each team member the opportunity to make the best possible contribution and to develop their own potential as best they can. They ensure optimal working conditions, regular feedback discussions, promote personal development, and are more likely to be seen as partners than superiors on their team.
Speaking of managers: We fill most of our management positions right up to senior management internally. It's not uncommon at our company that, for example, at some point a student worker becomes the new purchasing manager.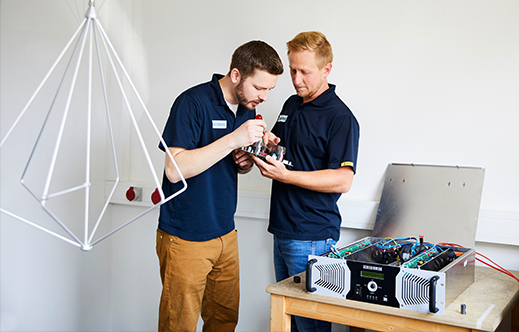 Appreciative interactions. No place for airs and graces
An apprentice has an idea and presents it to their manager on the spur of the moment? Or even better: This idea will be implemented soon? That is just part of how everyday life is at our company.
Detached from their respective roles in our company, we always view our employees as individual human beings first and foremost. So it is easy for us to really and truly meet each other at eye level on a daily basis.
Our lean organizational structure, cross-departmental work, and our open and appreciative way of interacting with each other make it possible to implement new projects quickly and successfully. Whether a new employee or "old hand" – only together can we ensure our growth and not forget how much fun it truly is to work at Schiederwerk.
Our framework conditions.
Reasonably-priced meals in our company cafeteria? Models for flexible working hours? Voluntary subsidies for company pensions? Regular company parties and free coffee and fruit? Such benefits have long been standard at our company and almost not even worth mentioning. It is important to us that our employees feel at home in their workplace and that they enjoy working for Schiederwerk. Our low turnover compared to the rest of the industry shows that we are on the right path here.
We are committed to continually improving the framework conditions. Because we would much rather celebrate a 25th anniversary, than say goodbye to a valuable employee.
Working at Schiederwerk. When personal life and career match
We know that balancing your personal life with work is often a difficult balancing act.
Together with our employees, we design solutions that best suit the respective work and life situation. This also includes professional training for new employees, joint formulation of professional and management career path, or the individually planned transition to retirement.
Schiederwerk. Manufacturer for power supplies with long tradition
We are a pioneer for custom power electronics with a focus on industry, medical technology, lighting, and e-mobility. As an employer in Nuremberg, we offer challenging tasks, a diverse team and an attractive environment.
Andrea Grillenberger is always here for you.
Andrea Grillenberger will be happy to help you with questions about career opportunities at Schiederwerk. Contact her now!
EMAIL
PHONE