We are committed to sustainable development and production of power electronics.
As a producer of power electronics, we have a special responsibility when it comes to sustainability and the responsible use of resources. At Schiederwerk we take this responsibility very seriously. Sustainability is an integral part of the development and production of our power supplies.
Energy efficiency. Sustainability starts in development
The key to optimum energy efficiency of our power supplies lies in the wealth of experience of our engineers. In development, they don't just meet the specifications of the planned products. They are experts in optimizing the efficiencies of our power supplies. A high efficiency of up to 96% reduces the heat generated during operation and thus opens up new avenues in component cooling, even at high outputs. At the same time, it ensures the best possible usability of the electricity taken from the grid. In this way we help our customers to save energy permanently.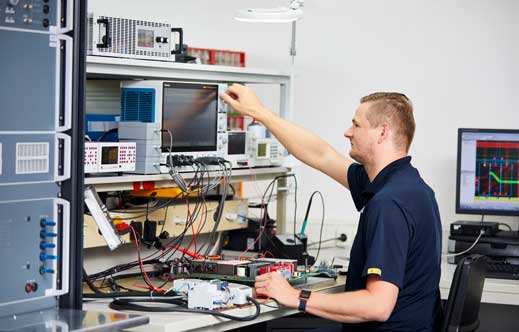 Service life. Power supplies that run and run
In addition to the high efficiencies, we design all our power supplies so that they have the longest possible service life. Depending on the application, our power supplies run reliably for up to 20 years under sometimes extreme conditions. This often exceeds the service life of the actual end product. This reduces maintenance expenses to a minimum. And it ensures that no unnecessary resources, such as part and component replacement, are consumed.
Energy feedback to the grid. Recycling of energy
In a manufacturing plant, there are many processes that consume energy. The 100% test and the burn-in test of our produced power supplies in particular is an energy-intensive process. Instead of letting the energy consumed during the tests go unused, we recycle it. Since 2016, we have been operating our own grid backfeeding. More than 90% of the energy consumed in the burn-in test is fed back into the public grid.
DIN EN ISO 14001. Ambitious environmental goals
Our entire company is certified according to DIN EN ISO 14001. For us, the certification is not the result, but rather the starting point, of our environmentally friendly activity. Every year, we set ambitious environmental goals for all departments, which we regularly exceed.
It is a matter of course for us to comply with the RoHS and REACH guidelines.
Any questions?
We are always here for you.
Our colleagues will be happy to help you with any questions you may have about your individual power supply. Contact us now!