We are the one-stop supplier of power electronics and power supplies, combining development and production under one roof.
We are a one-stop supplier of power electronics. We make this possible by having all departments work together under one roof at our Nuremberg location: from the development department, which lays the foundations for our successful products, through our entire production and test laboratories, to our own testing equipment and fixture construction. By doing this as a manufacturer of power supplies and power electronics, we guarantee that all our products are "Made in Germany."
Due to the close proximity of colleagues to each other, all employees involved in a project have frequent face-to-face discussions.
The result: fast response times and the ability to promptly respond to changing customer demands at every stage of the product life cycle. This is how we meet the highest quality standards of our customers. This is particularly appreciated by our customers in industry and medical technology.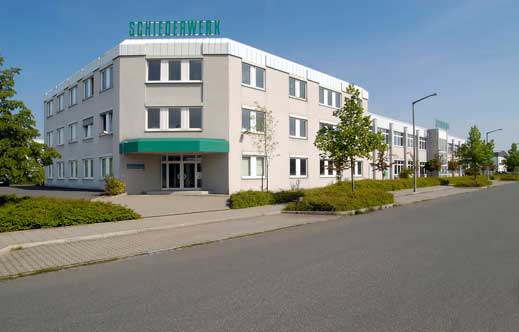 Our development. The basis for successful power supplies.
Professional and personal discussions on equal terms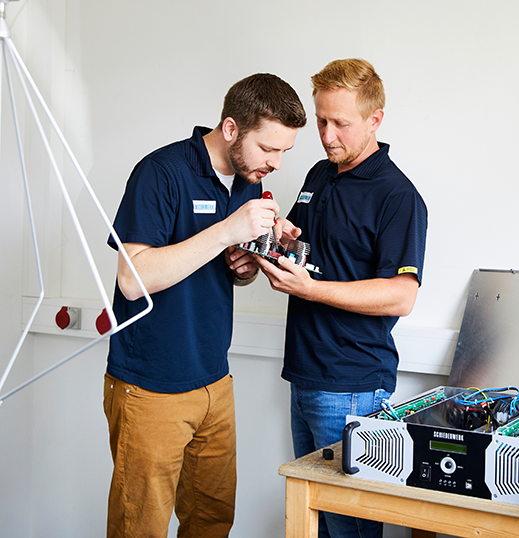 We develop customized power supplies on equal terms and guarantee a successful end product through constant trusting communications with our customers. Your most important contacts: Our development engineers. They work on the entire project– from the first briefing, to the prototyping and pre-production, until the end of the product life cycle. They all possess a great deal of professional knowledge and profound industry-expertise. This makes them valuable contact partners for our customers and important sources of ideas for our internal specialist departments.
Our development engineers are always available internally and externally as direct contacts. Custom requirements and change requests can thus be included in the development process unfiltered. We try to avoid a change of the development team in charge of the project as much as we can. In this way, we ensure a high degree of production fidelity over the entire life cycle and can respond quickly and efficiently to changing requirements.
Sample production on the later production line
All product samples will be produced by us on the later production line. Whether it's "just" a PFC or a complex power supply in a UL-certified control cabinet. This allows us to identify and implement production-related adjustments, for example in the PCB layout, at an early stage of development. This saves costs, reduces development times, and reveals potential problems in later production at an early stage. Our customers can be sure that the production-related samples will be just as producible later as well.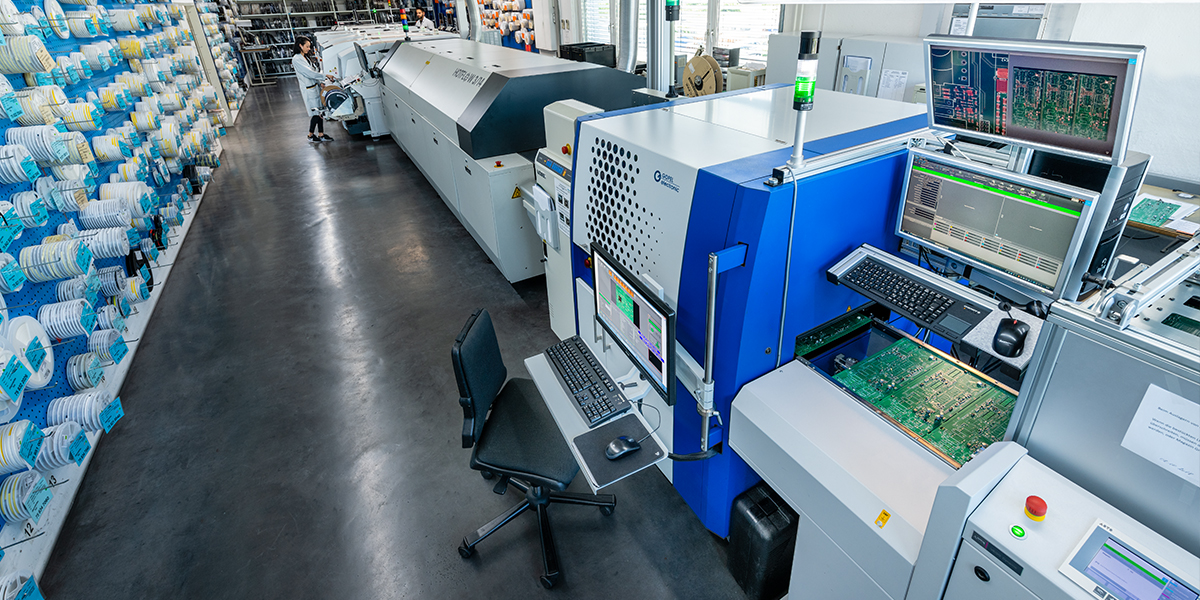 No fear of changes
The product life cycles of our power supplies are designed for many years, depending on the industry. Due to the long running times, it can happen that the requirements for the end product and thus also for the power electronics we produce, change.
Thanks to short distances and personal contact, we can react quickly to new requirements, such as changes in the characteristic curve, at any time. We can integrate any necessary software adjustments into the current production process. We effortlessly handle newly added test requirements when re-approving a product in other countries. Our in-house test equipment construction and the quality awareness of all departments enable us to demonstrate timely compliance with the new parameters to be tested.
Our production. State-of-the-art machinery meets decades of experience.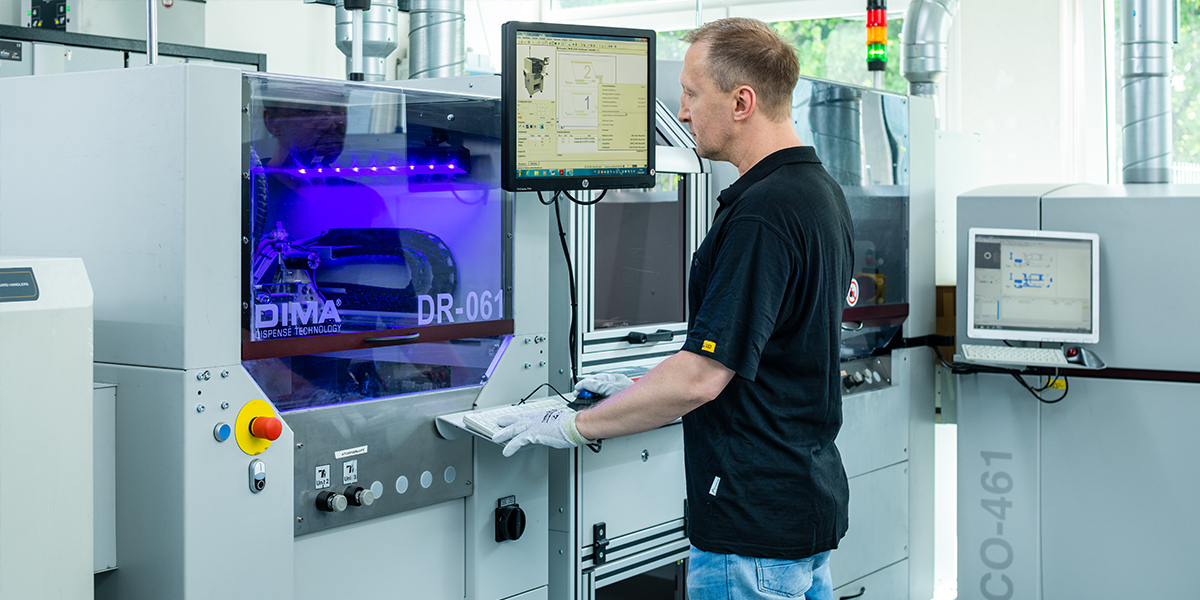 Lean Production. Production flexibility
Our entire production follows the principles of Lean Production. For us this means more than just short production paths and careful use of resources. For example, we are constantly looking for ways to improve our production processes. That's why we can react quickly and flexibly to the most diverse requirements in production.
We work with one of the most modern SMD placement lines on the market and plan our production using agile methods. This allows us to overcome every challenge quickly and reliably: Be it a short-term increase in the production of LED drivers to many thousands of pieces, the simultaneous production of an SMPS product sample, or the parallel production of several different products in different quantities.
Zero margin for error. 100% process testing after each step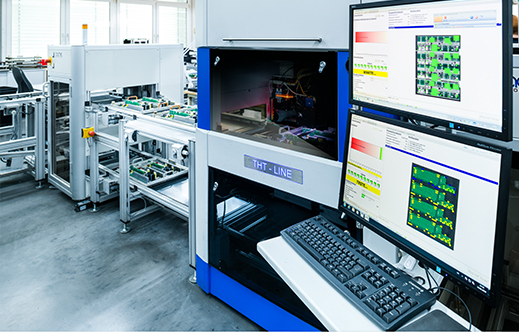 Every single product manufactured by us is extensively tested after each process step. For example, we use several (two-sided) AOI systems following the SMD and THT processes and check each product in our own test bay. With our 100% end-of-line test, we ensure that each individual power supply more than meets the quality requirements of our demanding customers.
We achieve the high degree of testing and end use-related quality of the products thanks to modern automated test systems and the above-average level of education of our employees. Our in-house testing equipment makes it easy to map every conceivable test scenario and integrate it into the production process.
Pilot run production. Dress rehearsal for high volumes
Pilot run production is an important component of the following mass production. It has a similar function to dress rehearsal in the theater. With its help, we can check whether mass production in the planned quantity and above all quality will work.
We are already producing the first product samples on the later production line under real conditions. We create and test all relevant processes, test equipment, and devices in-house during the development phase. This not only helps in the subsequent production quality, but allows us to produce the pilot run soon after completion of the product samples.
UL-certified control cabinet design. For more than just power electronics.
We are more than "just" a supplier of power electronics. We have an in-house UL-certified control cabinet design. We are thus able to build complete control cabinets and manufacture power supplies as plug & play solutions. If needed, we can plan and produce the complete power supply, including housing and wiring harness. As a result, our customers can effortlessly integrate our products into the final product in their own production process.
Want to work on a project with us?
Together we develop your individual power supply according to your specifications. Contact us – or directly fill out our data sheet with your specifications.
Any questions?
Stefanie Hess is always here for you.
Our colleague Stefanie Hess is happy to help you with any questions you may have about your custom power supplies. Contact her now!