We develop individual power supplies for the lighting of events and buildings.
TV shows, music festivals and concerts, or attractions around the world have one thing in common: Many of them shine in the best light thanks to our individual power supplies. Because with stage and studio lighting, the change from metal halide lamps to the LED technology is unstoppable.
LED technology has many advantages for stage, and studio lighting:
Adjustable light color and light intensity during operation
Easy to implement dynamic lighting effects by e.g. RGB control
Uniform light distribution and less of a dazzling effect on actors and spectators
Low heat generation
No flickering effects, for example during HD transmissions
Reduced electricity consumption of up to 50%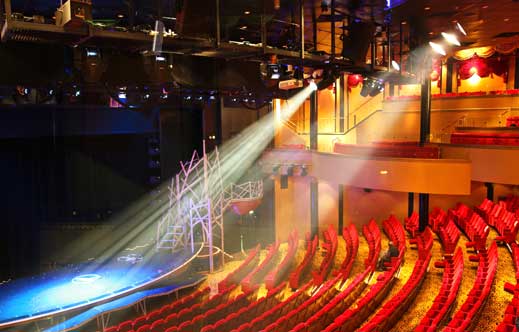 Power supplies for stage lighting. Experience since 1992
Since 1992 we have been developing and producing electronic ballasts and ignitors for stage and studio lighting at Schiederwerk. The first electrically-powered product of ours was an overhead projector. In the same year, we developed the first power supplies for metal halide lamps in studio lighting and produced them at our Nuremberg location.
Over the years, we have become one of the world's leading providers of customized electronic ballasts and ignitors in stage and studio lighting. With our expertise, from other industries as well, we are the right partner when it comes to realizing complex controls and circuits for LED, as well as conventional light sources.
Individual LED drivers. The revolution in stage and studio lighting
In stage and studio lighting, the LED technology has finally reached a breakthrough. Early on, the development engineers at Schiederwerk recognized their looming success many years ago. That is why we already have many years of experience in the development and production of customized LED drivers.
Our individually developed and produced LED drivers are a feature of, among others:
Custom input and output voltages both in the high-current range and in the high-voltage range
Customized designs for optimal integration into the lighting system
Absolute reliability and long service life
Innovative cooling concepts
Versatile, digitally controllable features
Communication with interfaces such as DMX or DALI
Surge resistance of up to 10 kV and 5 A
Protection against dirt and ambient humidity by sealing the printed circuit board surfaces up to the casting of the complete assembly
Want to work on a project with us?
Together we develop your individual power supply according to your specifications. Contact us – or directly fill out our data sheet with your specifications.
Any questions?
Judith Klein is always here for you.
Our colleague Judith Klein will be happy to help you with any questions you may have about studio and stage lighting. Contact us now!