We help our customers successfully transfer established concepts to their e-mobility solutions.
E-mobility and battery-powered drive technologies are currently the top topics in industrial development. Nevertheless, the focus is mainly on the switch from fossil fuels to electric-powered means of transportation in the private sector. In the still new sector of e-mobility, there are still many other possibilities.
E-mobility brings  a lot of new business models and developments to the economy. New application scenarios and products emerge in the industrial sector almost every day. The offer ranges from electric-powered corridor vehicles to autonomously operating and self-loading vehicle fleets.
The concept of electric vehicles is not that new. In track-guided systems, such as trams, electric motors have been used as a power source since the end of the 19th  century. Electromobility owes the current upturn to recent major steps taken in the development of battery and charging technology. The innovations in the field of battery-powered drive technology make the switch from internal combustion engines to high-torque electric motors possible.
Innovative battery technologies. Driving detached from fixed routes
The first electric-powered vehicles were still fixed to permanently-installed power lines and thus clearly defined routes. Today, battery-powered vehicles are completely free in terms of where they can go.
This is made possible by the rapid developments in the field of efficient rechargeable batteries. This particularly concerns the energy density per kilogram and the charging stability of the batteries. There has also been great progress in charging technology and intelligent power supplies with high efficiencies. For example, e-mobility has caught up massively with fossil fuel engines on the two biggest criticisms: range and charging time. Looking at the current state of research, electromobility will take further major steps in the near future and replace conventional engines in the medium term.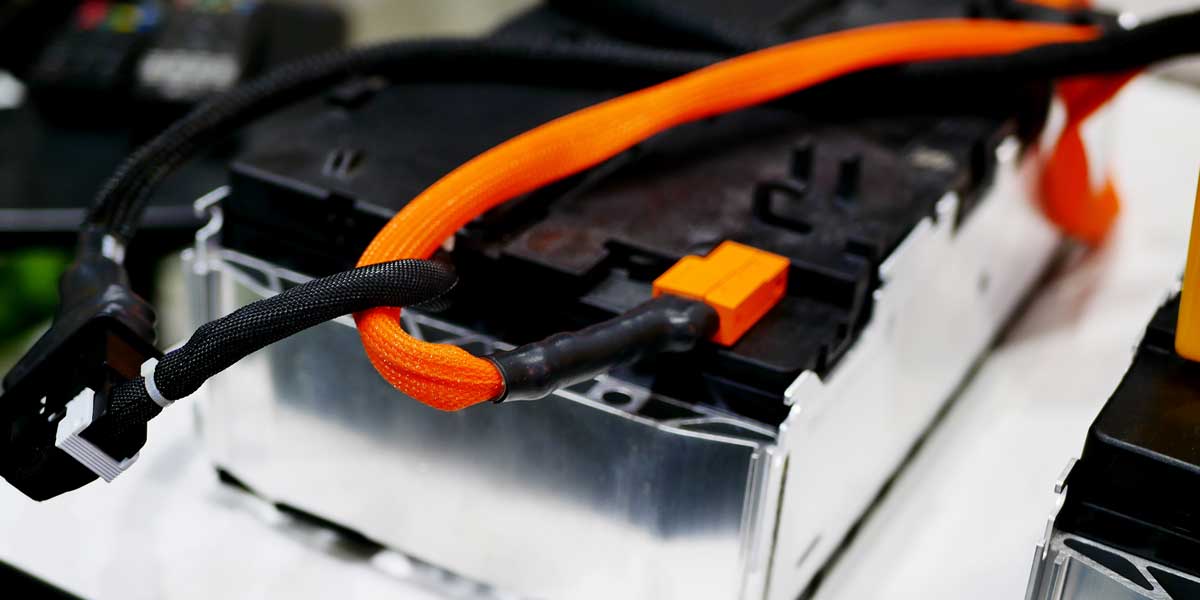 Maximum torque. Maximum advantage
With their comparatively high torque, electric vehicles offer unforeseen application scenarios in the industrial sector. Whether it's a mobile transport system in a factory building, a powerful aircraft tug at the airport, or an autonomous transport system at a company's premises. Their usage is practically emission-free. The electronic drive systems and powerful charging technologies make it possible to move even large and heavy things emission-free, reliably, and safely.
Battery-powered vehicles also shine with their low-maintenance drive components. Our customized power supply assemblies guarantee our customers absolute reliability and efficiencies of up to 96%. This not only ensures a low failure rate, but will reduce fleet costs for companies in just a few years.
Schiederwerk Power Electronics. Individual solutions for the engines of tomorrow
We have many years of experience in the development and production of customized module assemblies for various applications. Our focus here is above all in the high-power range (also water-cooled) and the high-voltage range.
These focuses and the wealth of experience of our development engineers, as well as from other applications, enable us to successfully transfer proven concepts and novel solutions to the operation and maintenance of e-mobility solutions.
In the field of e-mobility, we are the right partner for:
Universal battery charging systems with high current resolution
Regenerative discharge units
Battery-adapted solution concepts
Complete constant current sources with high efficiency and precise current regulation
Intelligent, networked power supplies
Innovative charging techniques, for example in the vehicle-to-grid principle
Want to work on a project with us?
Together we develop your individual power supply according to your specifications. Contact us – or directly fill out our data sheet with your specifications.